This feature is in beta! Please report bugs to our Support Server!
Getting Started
To get started with items v2, you must import items on your Dashboard.
This can be done on the items page of the dashboard. Once there, you will be prompted to import your items & inventories.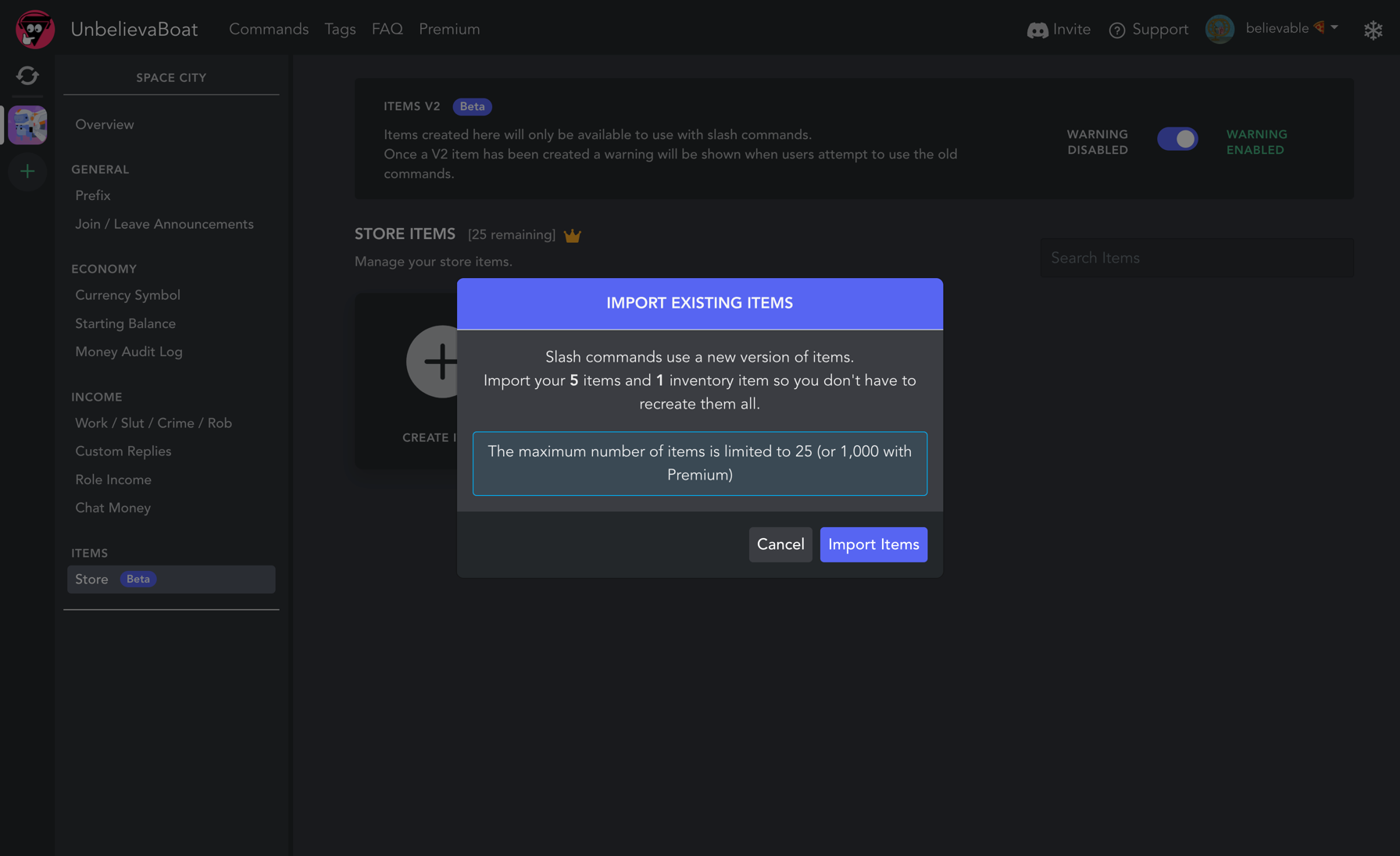 New Features
You can set multiple actions & requirements on the items dashboard for your server.

This is currently limited to 2 for normal servers and 5 for premium servers.
The actions you can set are: Send Message, Edit Roles, Edit Balance, and Edit Items.
The requirements you can set are: Role, Total Balance, and Item.

Items are now supported in slash commands.
The dashboard has complete item management.
Items can now have icons!
There is now a usable option when creating items to determine if the item can be used or not.
There is now a sellable option when creating items to determine if the item can be sold to other users or not.
Changes
The number of items you can have in your server is now 25 for normal servers and 1,000 for premium servers.
There is now an option to update inventory items when updating an items settings via the dashboard.
There is now an option to delete items from inventories when you delete them from the store via the dashboard.
You can now have multiple chickens in your store and inventory (one of each type of chicken in your store).

Any item with the word "chicken" in it can be used for cock-fight.
Cock-fight has an option for which chicken to use.
Work in progress features
There are some existing features that aren't currently available with v2, although they will be added very soon!
Slash commands for give-item and take-item
Buttons on the Dashboard to delete all store items & inventories
Common Issues or Questions